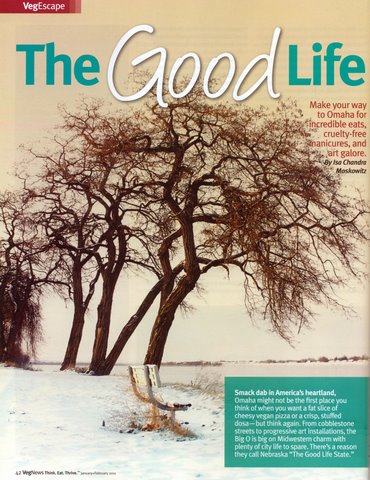 Omaha was the featured city in the Jan/Feb issue of VegNews Magazine's VegEscapes column. The article scrapes the surface of some of the great things in Omaha. As far as vegan things, the usual suspects are mentioned –  Daily Grub, McFosters and the all vegan nail shop, surprisingly called "The Nail Shop."
Our strong art scene is also mentioned, including the Bemis Center and the Joslyn Museum. The Old Market is featured with Second Chance Antiques taking the spotlight, probably in part because of the cute felines that live there.
The article was written by Vegan Omaha contributor (and -full disclosure- my girlfriend), Isa Chandra Moskowitz. VegNews is available in any of the big bookstores or Whole Foods.
It's very cool that Omaha is getting its rightful place on the vegan map! We're excited to see what 2011 brings. Happy new year, everyone!